Sports
We want our children to be fit, healthy and sporty!
At Roche School we recognise that children need to be fit and healthy and understand fitness and health in order to flourish. Every child in school receives a minimum of two hours of PE within curriculum time each week and many attend our after school clubs.
Physical activity in all forms is promoted from cross curricular outdoor learning to representing the school as a member of one of our successful competitive teams.
We take every opportunity to involve children in sporting opportunities in our locality through collaboration with our cluster schools and involvement with the Mid Cornwall Sports Partnership.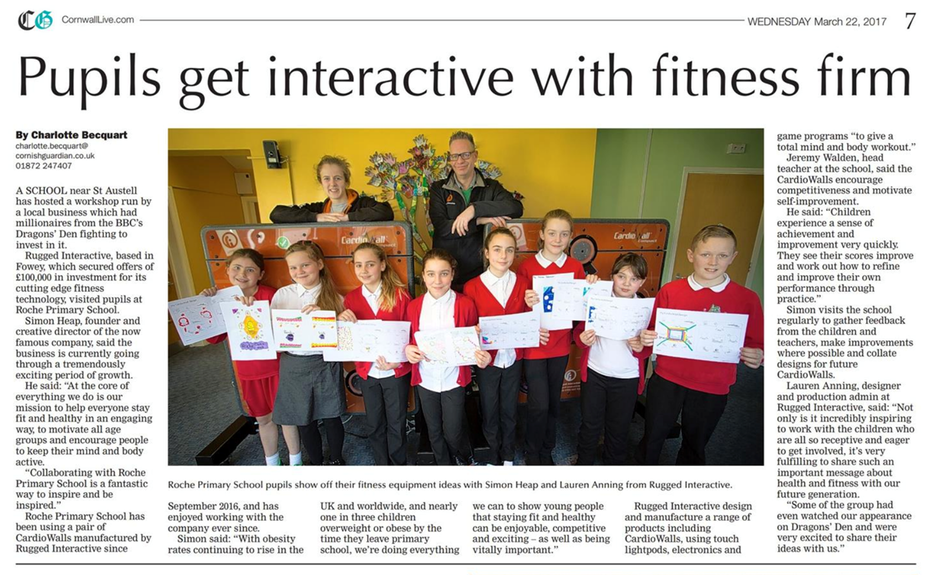 Children have many opportunities to collaborate in activities such as creating dances, gymnastic routines and team sports. This is an important feature of developing life skills that are often best understood by children through participation together in physical activity.
Parents are very positive about children learning through activity and participating in a varied range of movement based learning.
As a school we are striving to diversify the range of activity that we can provide for children in order to include a wide range of interests, individual skills and abilities.
We want children to have the opportunity to take part in activities that our locality provides. These include beach safety and surfing, kayaking and sailing, mountain bike riding, cross country running and orienteering
Success and participation in sports both in and out of school are regularly celebrated in assemblies and in the newsletter. We want children to be proud of their achievements and inspire their peers to participate.
The school has invested in a pair of Cardio Walls from Rugged Interactive. A case study from Rugged Interactive can be accessed here: http://www.rugged-interactive.co.uk/roche-community-primary-school
PE at Roche
The school has a priority on high quality PE across all year groups. 2 hours of PE is a mandatory requirement for all our classes and as a result of this we have strong participation levels in clubs and sports. Children are able to develop high levels of PE, have the opportunity to input into their own PE lessons and access a wide range of sports throughout the curriculum. This year has seen the relaunch of the house teams and for the first time a program of intra-sport competitions mainly run by the children and has seen 352 pupils compete for their houses. Roche attend as many L2 competitions as we can across the county from football to mountain biking and this has seen 166 children compete in L2 competition.
So far this academic year (2018/19) children have taken part in L2 competitions in Dodgeball and 5 -a-side football and SEND children have also taken part in the MCSN Inclusion games.
How the 2018/19 improvements will be sustainable in the future
We hope to sustain a high level of PE delivery within the school by providing regular CPD in areas identified through staff. We will continue to support as many sporting events provided to us by the MCSN, local cluster and our partner secondary school. The redevelopment of our school play areas is an exciting project that will improve the diversity, flexibility and outdoor education opportunities for the whole school. We have redeveloped our curriculum to take much more outdoor learning and having areas we can use to get children more active in their learning will make a huge impact. Funding for CPD of staff to run new clubs such as boxing, surfing and climbing are in the future plans. We diversify our sporting offer as much as we can and use our premium money to foster links to new clubs such as scuba diving. We hope to increase our mountain biking especially after competing in the Cotton Woods Cup this year with good success.
Use of coaches to help support and deliver sporting clubs. We have a Plymouth Argyle coach providing expert coaching to the football clubs, ensuring more pupils develop their skills and also to work with teachers to provide further ideas and upskilling. We want to be more successful in competitions this year and we will look to specialist coaches to help us prepare for certain competitions.