Welcome to Year 5
28.6.20 update
How are you this week? What funny weather we've been having! Lovely sun, then showers - I've no idea what to wear! I hope you have had a good weekend and are ready for another week with some learning. I've had a busy weekend of sewing (an indoor tent), baking (Brownie topped with caramel corn flake - yum!) and running (a bit hilly).
Thank you SO much to Liam who has made a brilliant start to the homework grid. Not only have you read a variety of space themed books on myON, but you sent Mr Walden some photos of your trip to NASA from a few years ago. What a shame that we can't all learn all of your amazing facts - I'm sure you would have lots!
Below, you can see who is really wowing me this week and coming top three on myON and TTRS; who is crushing Education city and who is owning Nessy.
Remember, I'd love to see what Space things you get up to so please send in any work you do to Mr Walden, who will pass it onto me.
Magnificent myON:
In-school learners

Home learners

HM: 62 minutes

CK: 40 minutes

SM: 38 minutes

JP: 147 minutes

ELB: 112 minutes (great to see you back in the top three!)

LT: 86 minutes
Terrific TTRS:
In-school learners

Home learners

HM: 5,320 correct answers

JA: 2,975 correct answers

CS: 2,066 correct answers

LT: 1,247 correct answers

OS: 666 correct answers

JS: 483 correct answers
Noble Nessy:
OS: 198 minutes
KB: 121 minutes
KH: 116 minutes
Enigmatic Education City:
22.6.20 update
Hi Year 5!
Another week has passed. I am now in school teaching a bubble of Year 6s. It is nice to be back in school but a bit strange not to be teaching all of you! Home learning seems to have dropped a bit this week, so a particular well done to those children who feature in the top three for either TTRS, myON or who have accessed Education city, arithmetic or 60 second reads this week. We have tried hard to keep home learning straightforward but understand that perhaps it has become a little repetitive. For that reason, we are all adding a grid of activities to do alongside the other home learning. I've based the Year 5 grid on what would have been our topic - Space! - and you can do as much or as little as you like. Mr Walden will send this all in an email (22.6.20).
You can see it below and also download it from the document list. The link to BBC bitesize is on the right. The Top Trumps template is below in the document list. The link to an additional Nearpod comprehension linked to the myON project is on the right.
If you do any of the activities, I'd love to see them and post them here. If you do any other Space related activities, I'd also love to see them and they might help to inspire others in the class.
There are still the same home learning tasks (Education city, arithmetic, 60 second reads, spellings and Nessy (for those who access it) available for you to do.
Now for the top threes!
TTRS number of correct answers in the past week:
HM: 5,559
CS: 2,995
JL: 1,155
Minutes read on myON this week:
JP: 157 minutes
LT: 67 minutes
HM: 62 minutes
Education city accessed by...
Year 5 Space homework grid
14.6.20 update
Evening all! How are you? I hope you are keeping busy. I have been! Over the last few weeks I have been doing some painting and decorating and am very pleased with the results. I've also been trying to get as many school things done as I could from home - thank goodness for the internet and zoom!
Many of you have been keeping busy too! Well done. I know how hard it is to stay motivated but also how brilliant it feels when you can tick something off of the list. See below for an update on TTRS, myON, Nessy and Education city. I really am so impressed with all of you for accessing it and REALLY going for it! Many of you have upped your minutes in one of the online learning platforms so you should feel really proud of yourself!
Here we go...
The top three readers on myON this week are...
LT - 108 minutes
JP - 104 minutes
LS - 102 minutes
Wowsers!
The top three earners in TTRS are...
HM with 188,245
CS 153,732
LT 40,852
Amazing efforts on Nessy too! Year 5 are BY FAR the best at doing Nessy in the school. Whoop whoop!
And you are still crushing it on Education city...
6.6.20 update
Hello!
Welcome back to your final term as a Year 5! What a way to start it! I am so happy with all of those children who are still accessing the online learning. I'm sure it is making your days go a little faster and making you appreciate the free time you do get. I've not been in school this week but have been working at my laptop thinking about topics I've taught you and how to tweak them to make them better. It is a real shame that we aren't back to school yet - I feel like I'd saved a good one until last!
Anyway, back to you guys.
Congratulations to the top three myON readers this week:
ELB - 174 minutes
LT - 67 minutes
LS- 62 minutes
Well done to the top three TTRS scorers overall:
HM - 172, 536
CS - 144, 758
KM - 28, 718
I am also really pleased to see that people are still accessing Education city. See below for everyone who accessed it this week.
Also, thank you to NC. She decided to do reserach on the lungs. Are you working your way through the body?
Have a lovely weekend , stay safe - Miss Goatman
17.5.20 update
Hi Year 5. A quiet week from you this week. I missed getting photos of all the art work you'd been up to, but thank you to Luke who sent in a fab drawing!
I've also attached a list of all the education city activities that people have completed - well done if your name is on the list! Mrs Carlin and I are overjoyed to see so many of you doing Nessy - Year 5 are crushing it!
I'm obviously over the moon that Year 5 won the myON battle last week - can you do it two weeks in a row?
This week is a theme linked to the Chelsea Flower show. The show began over 100 years ago and the ONLY times it has had a break was during WW1 and WW2....and now!
I look forward to seeing what you get up to!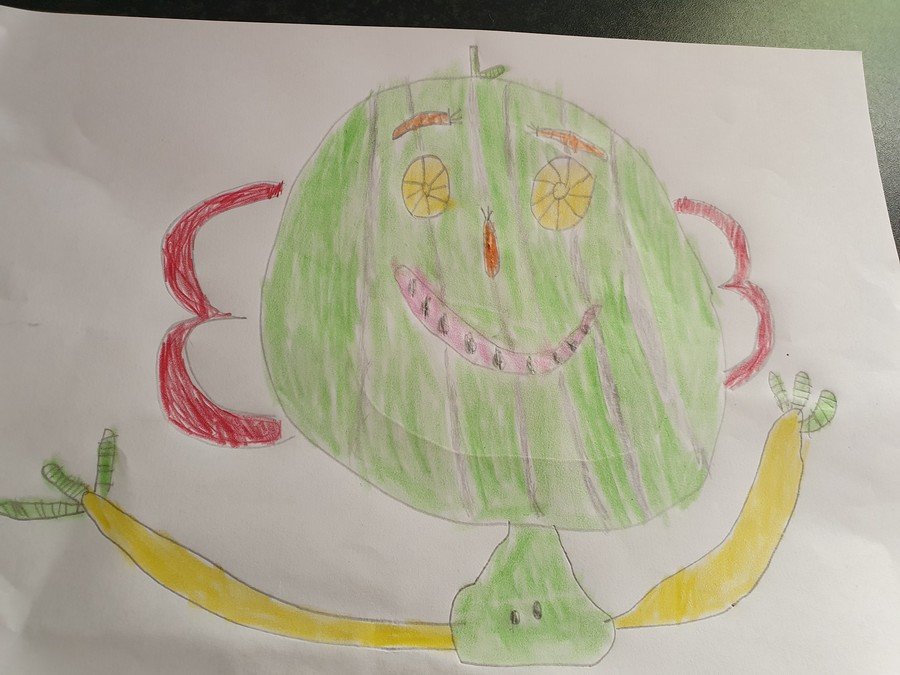 10.5.20 update
A double-themed week this week. Hopefully it kept you busy! I'v seen some great videos of you learning makaton - this is what Ewin uses so it'll lovely if you can remember it and use it with him. Take a look at the home learning page to see some videos (I'm not clever enough to get them onto this age!).
Then there were the VE day activities. Thanks to Jack and Ollie for sending in some of their work - I thought you'd enjoy this one!
I've also attached a list of the Education city. Thank you so much to those of you who are doing this. I really hope it'll keep your brain nice and busy ready for when we return to school.
I'm in school next week and the weather looks good so hopefully we'll be outside a bit. There is also another great theme, which a lot of you will enjoy.
3.5.20 update
What a busy, busy week! I've been in school this week and we've really enjoyed the Cornish theme. It looks like you guys have too! See below for some of your scrumptious scones baking, remarkable research and perfect pasties - great work Year 5!
Scroll even further to see the excellent Education city list, too.
01.05.20 update
We received this great video of Jack and his sister, Bea, speaking Cornish! Do any of you know any Cornish names or phrases?
29.4.20 update
Such a great start to this week! Well done Year 5. See below for all of the people who have already accessed Education city.
I'm in school this week and we are very much enjoying the theme work that Ms Palk set. Keep checking the 'School Learners' part of the website to see what we've been up to. I've also had some work from you guys linked to the theme. This is go up on the website throughout the week on the theme page. I've loved seeing what you've been up to. Well done.
24.4.20
Great work Luke - you've really embraced this week's theme. I have also done a lot of planting and sowing. It is VERY exciting when they begin to germinate! I hope you get some delicious treats!
Well done, also, for completing the comprehension I set you. You're really doing well : )
Kaycee, you've also been working hard. PE, writing, maths (in the form of Monopoly) and crochet - Mrs Welch will be very impressed! Have you seen her amazing blanket? Keep going with yours - it looks fantastic.
22.4.20 update
How lovely to see what you have been up to Liam. Thank you so much. I must say, that is some great creativity on the Labyrinth! I'm also very impressed with your baking. It seems to be a popular activity amongst everyone at home. Perhaps we should have a Roche CP School Bake Off once we are back at school. I'll judge!
21.4.20 update
YES! Thank you Year 5! You guys completed the most garage and studio sessions on TTRS yesterday!
Also, 8 of you accessed Nessy last week. Big shout out to Kira who accessed it for 82 minutes in total!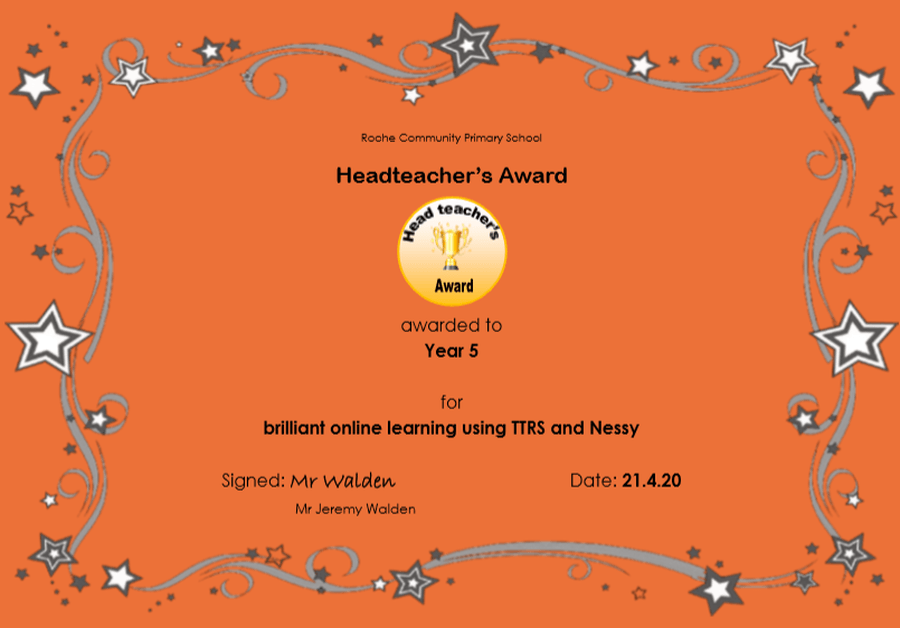 19.4.20 update
Hello hello. Another week gone!
I'm really chuffed with everyone who has accessed Education city this week. In total, eighteen of you! I'd also like to give a special mention to Liam, Charlie, Wojciech, Jack and Julia who completed ALL of the activities. Give yourselves a pat on the back.
I was also delighted to hear from those of you who have had a crack at the theme homework this week. Luke, Rory and Meave - you worked hard on your book reviews. There is a new theme for this week; an Eco theme! Some of the activities look really great and they are really diverse. You're bound to find a few that really float your boat.
Congratulations also to those of you who had a go at the arithmetic this week. Seventeen of you in total had a go on at least one, if not more, of the days. Again, there will be new ones each day this week.
In case you'd like to see what I've been up to, see the pictures below.
I'm really pleased to have mastered the Sourdough loaf! I've tried a few times before and my starter has always died : (
I've had reading homework too! I've been looking into more ways to explore vocabulary.
I've also been able to hang out with my cat Cooper (I'm not sure he's as pleased as I am).
And finally, I've been doing my best to keep up with exercise and here I am out on a cycle ride.
Stay safe Year 5.
16.4.20 update
Thanks for the photos Charlie! Great to see that you've completed the Labyrinth challenge. I love that it is from Lego. I'm also impressed by the range of other activities you've been getting up to. I wish I had a sous chef like yours!
14.4.20 update
Thank you to all of you accessing Education city - on Bank Holiday Monday! All of those Easter eggs must have given you plenty of energy! Remember, you can always try to beat your score by doing the activity again.
Congratulations to Wojciech who has now made the Top 10 in TTRS, along with Liam and Scarlett!
Remember to send in any photos of the work you've been doing at home.
Stay safe - Miss Goatman
7.4.20 update
Another impressive turnout on Education city - great stuff. Don't forget about TTRS though! At the moment, our class is accessing it the least! Although, I am impressed with Scarlett and Liam who are in the Top 10. Good work guys.
Today, all of the teachers had an online staff meeting and discussed how we're going to support you further, so keep looking back for additional tasks. Don't worry, we've tried to make them a bit different and maybe even fun.
Remember, I would love to see what you have been up to. Has anyone made a Labyrinth yet? It's not compulsory but it'd be great to get some photos up of any that have been made. What about Joe Wicks? My running friends and I did a session together using an online video conference. My friend shared it with Joe and he replied! He told us we were ...
How amazing is that!
Stay safe, Miss Goatman
* Education city update - 15.4.20 *
As part of this term's Science, Year 5 spent time exploring the different ways of separating mixtures. They used sieves, filter paper and funnels, and magnets.
What's more, they did it outside...in the sun! Glorious!
Near pod comprehension link (read the myON project book first)
BBC bitesize Earth and space link
Year 5 Documents
Spelling practise
To help your child learn their spellings, they can access the 'homework' section on Education city and pick an activity based on their spelling pattern.