School Learners
Following our children that are still attending school during mainstream closure.
Friday 3rd April
1. Watching the Black Rhinos at Chester Zoo!
2. + 3. South American fish
4. The sloth (Miss Searle's Favourite!!)
5. We decided to create a Sloth fact file.
6. Researching facts using books - old school!
7. Mr Walden made us a den!
8. Our Sloth Factfile!
9. Watching Madagascar
10. Teamwork makes the dream work!
11. On our bikes and scooters
Thursday 2nd April
1. Made during breakfast club!
2. Completing our work on Education City.
3. Go Noodle.
4. + 5.Creating our own faces.
6. Miss Goatman showing us how to create funny hair on top of our faces!
7. We then had a go!
8. It is harder than it looks!
9. Our finished creations!
10. Fun in the sand pit to end the day!
Wednesday 1st April
Tuesday 31st March
Mark and Callum's Zog castle!
Letting off some steam on the cardio wall!
More chalk art indoors today.
Drawing a Fox!
Creating letters using chalk.
Animals and letters!
Our amazing chalk art!
On display!
Watching Snail and the Whale on BBC iPlayer.
Making a Matisse robot.
Our versions of 'The Snail' by Henri Matisse.
Monday 30th March
1. Phonics with Ruth!
2. Tape and chalk art.. before...
3. Tape and chalk art... after! Our masterpiece is called 'Rainbow Colour Chaos'
4. Planting in the Greenhouse!
5. Courgettes, peppers and aubergines!
6. Cat Grass and Kale!
Friday 27th March
1 - One of the children made this during breakfast.
2 - Aerobics time with Miss Tonkin.
3 - Miss Tonkin taught the children how to make a daisy chain.
4 - Miss Tonkin also taught the children all the names of these wild flowers.
5 - A display of our work produced on hedgehogs to support Prickle and Paws.
6 - Our lovely clay hedgehogs.
7 - Fetching water for a moat.
8 - All hard at work building their sand sculpture.
9 - Digging.
10 - Very pleased with their finished work.
11 - Working well as a team with Miss Tonkin.
12 - Mrs Welch created a track with cones which we had to weave in and out of. We took turns on Haydyn's scooter.
13 - Mrs Campbell's turn!
14 - Mrs Welch made it quite tricky for Mrs Campbell.
15 - Quickest time of the day!
16 - One-handed!
17 - Trying to beat the record.
18 - Off-roading on the playing field.
19 - More off-roading.
20 - Mrs Campbell concentrating very hard.
21 - Flowers to take home to parents to say thank you for all their hard work.
Tilly's Diary
Hi Everybody
As you can see, although I'm not in school, I am keeping very busy 'helping' Mrs George work from home.
I have spent lots of time in the garden enjoying the sunshine and chasing my cat Joey, I haven't caught him yet, he's much faster than me!
I have learnt a new trick! I can now catch a sausage in my mouth. I pretended I couldn't do it at first, that way I ate loads.
Would love to see some photographs of what you have been doing to keep busy.
Please send photographs to Mrs George's email address.
The rainbow pictures everyone has put in their window look great, what else have you made.
I miss everyone from school but really glad that you are staying safe at home.
Take care everyone
Lots of love, Tilly xxx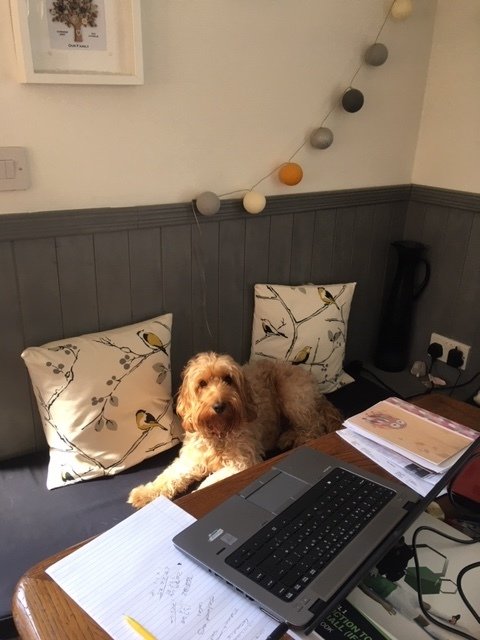 Thursday 26th March
Our newsletter proved very popular on Twitter, including this lovely comment from Nansledan School:

Pictures of the activities done by our school learners today are below!
1 - Start the day with a dance with Oti!
2 - Making clay hedgehogs.
3 - Finished paper plate hedgehogs
4 - Shadow art
5 - Gardening
6 and 7 - Finally planting onion sets
8 - Rainbow painting
9 - Painting paper plates which will turn into hedgehogs
10 - Smile for the camera!
11 - Ethan putting his spikes on his hedgehog.
12 - "This is how you cut out a hedgehog Mrs Welch! She cut off his nose!".
13 - Onion sets and courgettes in!
14 - We decided to make our own rainbow for the window. Keep a look out for it when you drive/walk past.
15 - Bit of PE at the end of the day.
16 - Dribbling football, do not touch the cones.
17 - Very proud of our finished rainbow.
Wednesday 25th March
1) - Cosmic Yoga - Minecraft.
2) - Downward dog pose!
3) - Puzzle time for KS1.
4) - Where's the popcorn? DVD time.
5) - Planting the onion seeds.
6) - Off for a run, Miss Tonkin setting the pace.
7) - Exhausted but happy after a day's full activities.
Today the pupils have also been writing the School Newsletter, which can be viewed below:
Tuesday 24th March
1) A Year 1 pupil built this wonderful structure during breakfast club.
2) Miss Tonkin set the children a challenge to get across the "river" without falling in the water! You had to stay as a group in a hoop.
3) Next challenge, grab an item that is on the list.
4) Winning sand art!
5) Second place.
6) Hama time not with MC Hammer but Mrs Campbell!
7) Ryan's rainbow.
8) Carla and Poppy's Hama art.