English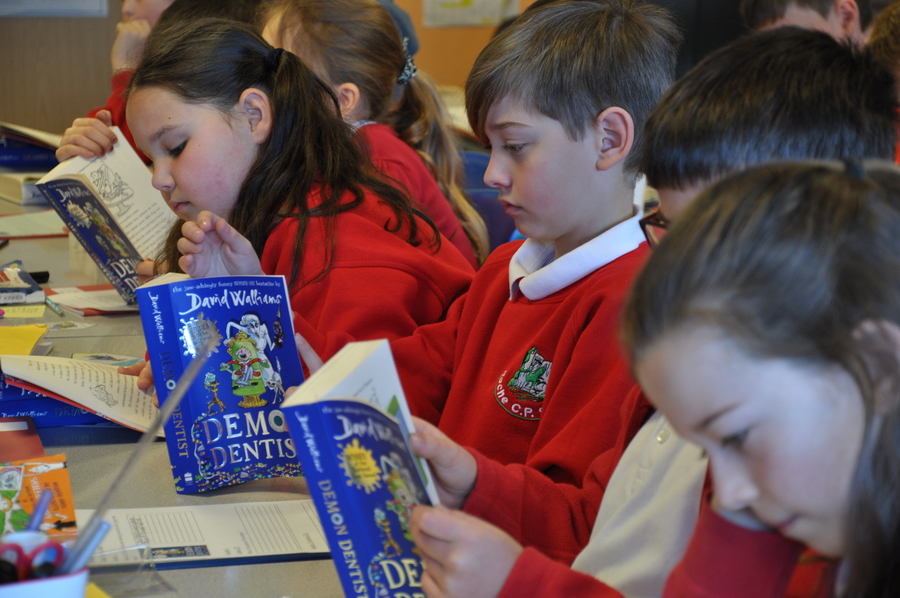 Our approach to reading, writing, spelling, punctuation and grammar
At Roche we feel that reading is the key to progress in so many aspects of learning. We encourage parents to read as much as possible with their children throughout their time at school. In school we nurture a love of reading by reading together in class and by valuing time for children to read independently. We use whole class sets of novels so that every child has a book in their hands enabling the class to read, discuss and enjoy the text together. This initiative begins in Year 2 and carries on through the school. Sometimes the text is chosen to link to the class topic but sometimes it's chosen purely because it's a great story!
We use the Accelerated Reader scheme (link below ) with all children from Year 3 onwards to promote and assess children's independent reading. We encourage children to read as much as possible, compete to read more than their class mates and for classes to show that they have read the most. This Accelerated Reader system enables children to regulate their own progress in reading and push themselves to read and achieve more. Understanding is tested through online assessments that children undertake whenever they finish a book. This promotes reading for meaning and develops comprehension skills alongside enjoyment and greater engagement in what they are reading. It also gives us clear information to share with parents about their child's progress. There are lots of rewards and incentives to recognise individual and class progress in reading. In Key stage 1 we run a Book Towers scheme to monitor how many books children are reading and again foster a sense of competition and achievement in children's progress in reading.
We teach phonics throughout Foundation Stage, Key stage 1 and in to Key stage 2. Progress in phonics is assessed by the formal national assessment in Year 1 where children are tested on their phonics ability (link below). We teach phonics in a variety of ways through play, structured activity, outdoor learning, handwriting, games and reading. The focus on phonics becomes a focus on spelling of key vocabulary as the children progress through the school. The key spellings are all available from the individual class pages on this website. We run workshops for parents of children in Reception class to show them ways of supporting and developing reading with their children at home. These are well attended. We are proud to have a number of volunteer readers in school who regularly come in to work with children. We always welcome more!
Opportunities to embed writing run throughout our curriculum. Much of the topic work that we do provides contexts for writing in a range of genres. From Year 1 children have individual targets for their writing that we encourage them to self-assess and make progress against. When children write they have Success Criteria to meet that encourages them to strive to hit a 'Gold' standard. Children know that they can always improve their writing and that there is always a standard to strive for. The development of writing is underpinned by learning in Spelling, Punctuation and Grammar. This can become challenging for children as there is so much to learn. We feel that the more children read from a wide range of genres the more familiar they will become with different styles and applications of punctuation and grammar. They can then confidently and fluently apply this learning in their own written work. There are some useful guides to Punctuation and grammar online (link below)
Accelerated Reader website: http://www.renlearn.co.uk/accelerated-reader
Key Stage 1 phonics test example: https://www.gov.uk/government/uploads/system/uploads/attachment_data/file/621157/STA177753p_2017_phonics_screening_check_pupils__materials_-_standard.pdf
Spelling, Punctuation and Grammar guide for parents: https://primarysite-prod-sorted.s3.amazonaws.com/crofton-anne-dale-junior/UploadedDocument/d4059096754a4f748bce79db7c70c30c/SPAG_Booklet_for_Parents.pdf)