Sports
We want our children to be fit, healthy and sporty!
At Roche School we recognise that children need to be fit and healthy and understand fitness and health in order to flourish. Every child in school receives a minimum of two hours of PE within curriculum time each week and many attend our after school clubs. Our Physical Education Policy can be viewed here >Physical Education Policy.docx
Physical activity in all forms is promoted from cross curricular outdoor learning to representing school as a member of one of our successful competitive teams.
We take every opportunity to involve children in sporting opportunities in our locality through collaboration with our cluster schools and involvement with the Mid Cornwall Sports Partnership.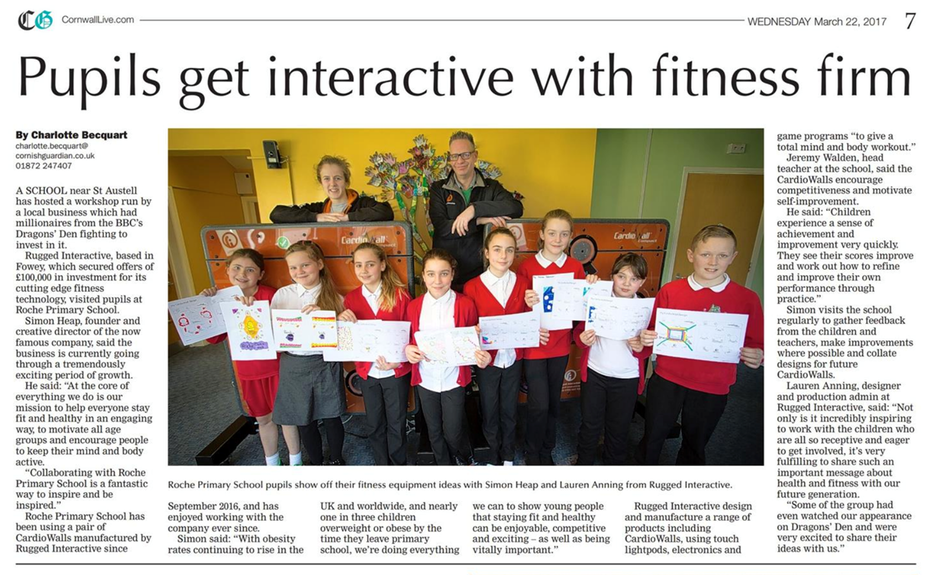 Children have many opportunities to collaborate in activities such as creating dances, gymnastic routines, whole class Zumba and team sports. This is an important feature of developing life skills that are often best understood by children through participation together in physical activity.
Parents are very positive about children learning through activity and participating in a varied range of movement based learning.
As a school we are striving to diversify the range of activity that we can provide for children in order to include as wider range of interests, individual skills and abilities as possible.
We want children to have the opportunity to take part in activities that our locality provides. These include beach safety and surfing, kayaking and sailing, mountain bike riding, cross country running and orienteering
Success and participation in sports both in and out of school are regularly celebrated in assemblies and in the newsletter. We want children to be proud of their achievements and inspire their peers to participate.
After School and Lunchtime Clubs
We are fortunate at Roche to have staff who are enthusiastic about leading after school clubs in a range of sports. These change as the year unfolds. However the Sport Premium grant has enabled us to broaden the sport club offer by training staff to lead new clubs and employing coaches to lead others. As a result we now have tennis for key stage one and two each week led by professional coaches and tag rugby for Key Stage 2.
Clubs led by staff include; archery club for key stage two, gymnastics, football at all levels, netball, table tennis, hockey, badminton, cricket and rounders in the summer. We also have Zumba club and in the summer have a surfing club. We expect to be running a mountain biking club from summer 2015.
We aim to have at least 12 sporting clubs on offer each term providing opportunity for Key stage 1 and 2 children.
We average more than 60% of children in both key stage 1 and 2 taking part in at least one after school sporting club each term. Some children attend up to 4 sports clubs each week.
The ratio of boys to girls participation is virtually equal.
If clubs are oversubscribed we have chosen to prioritise places for children on free School meals as we feel that these children may otherwise have less access to sporting activities.
We don't charge any families for their children's participation in after school clubs.
Sports Premium Impact
Our Sports Premium Impact Statement can be viewed via the link below:
Competitive sport
Membership of the Mid Cornwall Sports Partnership enables us to take part in local and county wide competitions in athletics, badminton, hockey, netball, football, Tag rugby, tennis, cross country running, swimming and cricket. There are competitions at cluster level within the St Austell area which act as qualifiers for the Cornwall School games.
Whilst participation in these activities is an important part of the sport experience, we aim to compete to the best of our abilities. We think that children should push themselves to be the best they can be and test their skills against others in a fair and competitive context.
Much of the competitive sport is coordinated by our local secondary school Brannel. They support us by deploying their Junior Sport Leaders to schools to help with training and providing the facilities that we need to offer the range of sports that we do.
We are currently our cluster of school's 5 a-side football champions and have qualified for the finals of our area's tag Rugby tournament. We also have two children taking part in the finals of this season's cross country races.
Sport Premium Statement 2016/17
Our focus in 2016/17 is on broadening the range of opportunities available for our children and the capacity of our staff to teach and lead sport at high level.
School has worked closely with Rugged Interactive to develop Cardio Walls for use in primary schools. Cardio walls are a high energy quick response training resource commonly used by professional athletes to develop cardio capacity and speed of reaction. We have had two walls in school in autumn term and developed support resources for use in areas of general fitness but also Special needs. The walls have proved very popular with all children. The children run clubs at lunchtimes, use them for movement breaks and integrate them in to PE activities.
There is an emphasis on improving personal best performance, pushing yourself to improve and of course compete with your class mates to be the best.
Two staff member are now trained to drive the minibus. This has opened up many more sporting possibilities including; children taking part in BMX, grass track and mountain bike racing, swimming trials and swimming galas as well as providing our own transport for weekly swimming classes, junior indoor athletics festivals in the area, participation in area cross country competition and teams competing in all football, netball and Tag rugby competitions. Plans for the spring and summer include surfing club. Prior to the purchase of the minibus and the training of drivers we were reliant on parents for all transport to and from sport activities.
Spending breakdown 2016/17
School receives £9000 of sport premium funding for 2016/17
Area of Focus

Actions

Budget / expenditure

Impact

Broadening the range of opportunity

Installation of Rugged Interactive cardio Walls

£6000

Used throughout PE but also by children independently in clubs and at playtimes. Regularly used by all key stage 2 children and often used by key stage 1.

Great impact on the development of motor skills for SEND children.

Releasing staff drivers to drive children to sporting activity. Supply cover where required

£2000

Staff are able to escort children to sporting events. The range of sporting events attended has expanded. School is able to take part in all sporting events and competitions offered in the area.

Fuel and maintenance of the minibus

£1000

School is able to run the bus effectively without fundraising.
A case study from Rugged Interactive can be accessed here: http://www.rugged-interactive.co.uk/roche-community-primary-school​